With the USA northeast experiencing an early Spring this year, Jamaican/Caribbean nationals in the the Washington/Baltimore area are gearing up for an evening of first class entertainment on Saturday, March 31 when Caribbean Voices & Pan show 2018 unfolds at the Eleanor Roosevelt High School, Hanover Pkwy, Greenbelt, MD.
Leading the all-star cast of performers is world renown Jamaican born, Florida based singer, Steve Higgins. Steve has sung at New York Mets Games and was the headliner at the Birmingham (UK) Commonwealth Association's Tribute to Queen Elizabeth II on the occasion of her 90th birthday.
Award Winning Singer Steve Higgins & Bratta Folks Singers Lead Explosive Cast Of Caribbean Voices & Pan ShowIn 2012, the Jamaican Consulate in Miami presented him with a Honor Roll Certificate for being a Change Maker in the South Florida Diaspora community. The following year, Jamaica's Ministry of Culture awarded him a Certificate of Appreciation. The esteemed vocalist has directed many singing groups, including The Fifty-Voice South Florida Caribbean Chorale for which he is the Founding Director. He is certified by the Associate Boards of the Royal School of Music (Voice), and has three solo albums to his credit. Steve has toured Europe, the US, and the Caribbean for over 25 years, and has produced the annual Steve Higgins & Friends concert for the past 15 years. There is no doubt patrons will be getting a whole lot of "Braata" for their money when he hits the stage.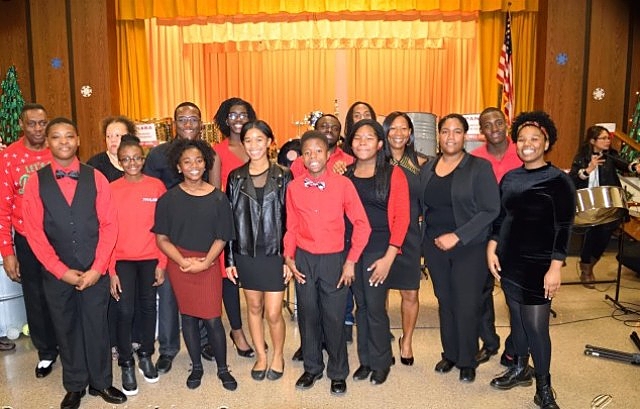 Speaking of Braata, Caribbean Voices & Pan Show 2018 will feature the award winning Braata Folk Singers from New York. This group is known for their dynamic presentation of folk music, combining new choral arrangements with intricate dramatic choreography, design elements, and costumes. Among their repertoire are Mento, Dinki-Mini, Ring Games, and Nine Night. The group has racked up an impressive array of national and international accoladed including winning two silver and a bronze medal when they performed at the World Choir Games in Cincinnati, Ohio in 2012. This was a wonderful gift to Jamaica on her 50th Independence celebration.
Patrons attending Caribbean Voices & Pan Show 2018 will also get an opportunity to experience the musical brilliance of PANLARA Youth Steel Orchestra who will share their African-Caribbean culture through steel pan music. In addition to performing throughout the Caribbean, the group performs regularly at Washington, D.C. signature musical arenas, including John F. Kennedy Center for the Performing Arts and Strathmore. While the prestige of entertaining at venues such as the Smithsonian, the Naval Academy, DC Convention Center, and Blues Alley are electrifying, their greatest joy comes from bringing their unique brand of music therapy to seniors and children.
Rounding out the impressive lineup of performers will be spoken word artiste Jillian E. Moore. Moore is an accomplished author, poet and storyteller who volunteers for at-risk youths in the Washington metropolitan area.
"One spectacular evening of Caribbean music and spoken word is what you can expect at Caribbean Voices & Pan Show, 2018," stated event producer Karl Haughton of The Caribbean Current.
Hosting the event will be Michael Campbell and author Joelle Wright.