On the heels of a successful farmers market debut at the Washington D.C. Grace Jamaican jerk festival, Farm Up Jamaica, a non-profit organization, will continue its mission to raise funds to reduce the amount of import foods into Jamaica, while creating employment opportunities in agriculture for young Jamaicans who need most. This time it will be held in the New York tristate area, at the Grace Jamaican Jerk Festival at Roy Wilkins park on 
Sunday July 22, 2018
.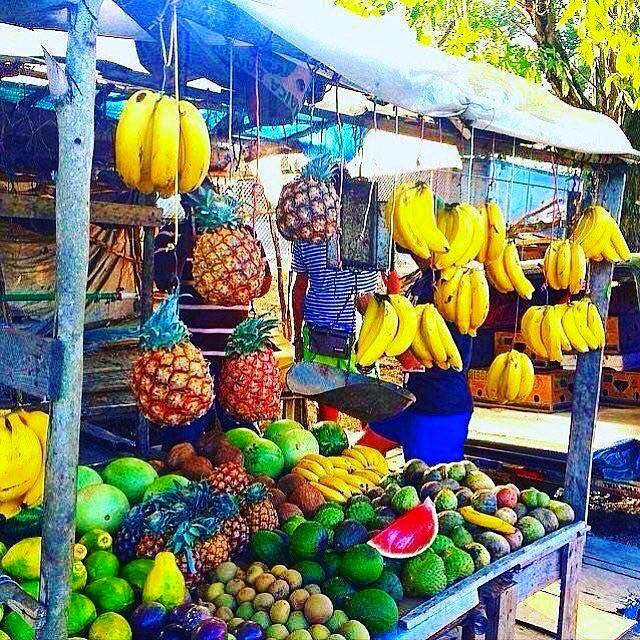 Farm Up has partnered with the Grace Jamaican Jerk festival who understands that Caribbean people need to feel a sense of "home away from home" every so often. The partnership promises to bring the most comprehensive Caribbean culinary experience in the world. Augmenting produce to the roster of cuisine and allowing the chefs and attendees access to authentic Caribbean produce, herbs & spices, will make the Jerk Fest the only place to be on Sunday June 22nd.
"Tasting the best Caribbean flavors at an event is one thing, having access to the raw ingredients to re-create the experience at home is another," says Dr. Julius Garvey, son of the late Marcus Garvey and Director Of Strategic Research And Development for Farm Up Jamaica Ltd.
Caribbean people will be able to purchase some of the most longed for fruits, vegetables and herbs while supporting a patriotic endeavor to help the Jamaican economy and its people to recover. One way is by teaching them how to fish instead of continually giving them the fish.
Patrons can get ready to enjoy products like: Soursop, Jackfruit, Pumpkin, Yellow Yam, Lucea Yam, Negro Yam, Jamaican bananas, Jamaican pineapple, Jamaican Breadfruit, Callaloo, Guinep, Sugarcane, Coconut,
Ginger, Turmeric, Bammy, Scotch Bonnet Pepper and much more.
Farm Up will be located immediately after you enter the gate. Support from patrons is recognized as a contribution to the recovery of a nation so folks are encouraged to bring their shopping bags and prepare to help Jamaica by purchasing their favorite produce or simply making a donation. Cash, Credit and Debit cards will be excepted. They will also have a bag check for people who don't want to walk around with heavy bags.
This is an extraordinary opportunity of food and fun and live entertainment at the Grace Jamaican Jerk Festival Roy Wilkins Park Queens NY, Sunday July 22, 2018.
Farm Up Jamaica's mission can be seen by visiting the website at www.farmupjamaica.org or calling 516-376-1626.
The Grace Jamaican Jerk Festival, NY is sponsored by Moneygram, Laparkan Shipping, Tower Isle Patties, Continental Bakery, The Jamaica Tourist Board, HSBC bank and produced by Jamaican Jerk Festival NY, LLC in association with VP Records.
Visit https://jerkfestivalny.com for more information. Stay up to date via social media, find the Grace Jamaican Festival on Facebook and Instagram.
Tickets are valued at $36.00 in advance and $46.00 at the event. Online tickets are available for purchase at : https://jerkfestivalny.com/tickets/.
About NY Grace Jamaican Jerk Festival:
The Grace Jamaican Jerk Festival NY has the unique distinction of being "New York's Biggest Caribbean Food Festival" delivering an enjoyable experience of the highest quality to festival goers. Held annually at Roy Wilkins Park, Queens, New York, the third Sunday in July, the Festival appeals to all ethnicities and key demographics, particularly the vibrant Caribbean communities in the Metro New York. This year's Grace Jamaican Jerk Festival is taking place on July 22nd, 2018. The Festival has been featured in NY 1, NY Daily News, Pix11 & Paste Magazine. Past Festival headliners have included sought after Dancehall, Soca and Reggae Artists: Christopher Martin, Shaggy, Third World, Dexta Daps, Gyptian, Bunji Garlin, and Fay Ann Lyons.
For jerk fest inquiries please contact:
Eddy Edwards
Riddims Marketing, Inc.
Jamaican Jerk Festival USA, Inc.
To RSVP for Media Credentials please complete form HERE by Friday July 18, 2018 at 5pm.
For press inquiries, please contact: [email protected]