Trojan Jamaica/BMG is proud to share a new remix of U-Roy feat. Jesse Royal's "Small Axe," originally found on the late reggae icon's acclaimed new album, SOLID GOLD U-ROY. Remixed by Trojan Jamaica co-founders Zak Starkey and Sharna "Sshh" Liguz, "Small Axe (Jamaica Soundsystem Remix)" is available now at all DSPs and streaming services. An official music video premieres today on the official Trojan Jamaica YouTube channel.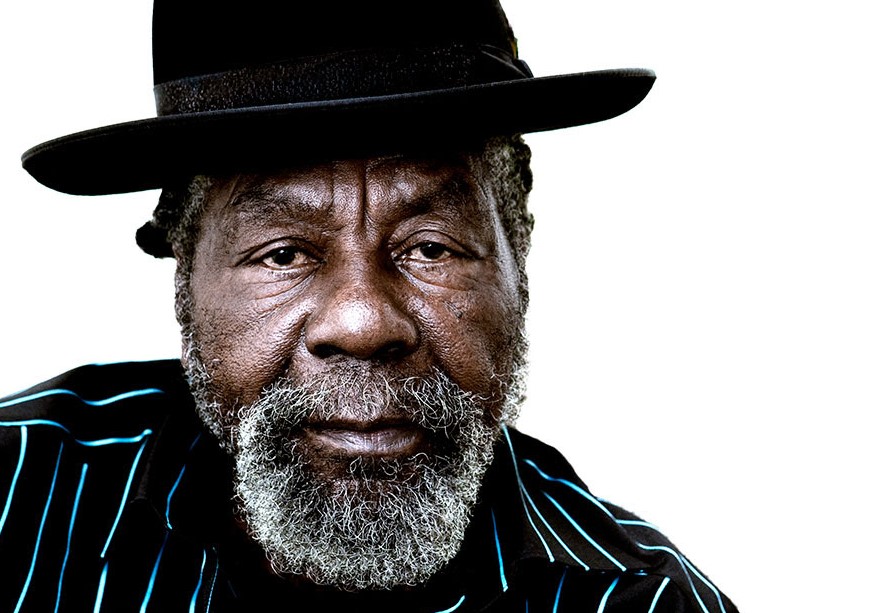 LISTEN TO U-ROY FEAT. JESSE ROYAL
"SMALL AXE (JAMAICA SOUNDSYSTEM REMIX)" 
WATCH OFFICIAL MUSIC VIDEO 
STREAM/DOWNLOAD SOLID GOLD U-ROY 
A dub-powered new take on Bob Marley's classic early hit, sees the late, great Daddy U-Roy trading big vocals with Kingston, Jamaica-based singer-songwriter Jesse Royal over an indelible riddim that is rich with instrumentation and reverb, yet leaves enough space as to highlight the contrasting deliveries of the singer and deejay, as well as the fresh backing vocal arrangements, courtesy of Robbie Shakespeare, Tony Chin, and Trojan Jamaica co-founder Sharna "Sshh" Liguz. Additional guitar and piano parts were contributed by Trojan Jamaica co-founder Zak Starkey.


Affectionately known by his fans as the "Small Axe," Jesse Royal was a natural fit for this latest interpretation of the beloved reggae standard. 
"We are all from the same bloodline. Products of one of the greatest places on Earth! Walking talking blessings," exclaimed Jesse. He added, "The session for me was a school, as whoever knows me knows that I'm an avid studier when it comes to the ones who set it! The vibrations are always high, as the respect is mutual, and for me the level of gratitude was undeniable! Incredible concept that the team came up with, and brilliant execution by the musical team. Truly honored to be a part of such an amazing project!" 
"Small Axe," initially recorded by The Wailers for legendary producer Lee "Scratch" Perry in 1970, was written by Bob Marley as a song of underdog resistance against an oppressive Babylon System, and more specifically, Jamaica's "Big T'ree" dictatorial record label triumvirate – Dynamic, Federal, and Studio One – who seemingly controlled all aspects of the island's music industry at the time. The young firebrand warned on the song's chorus: 
If you are the big tree
We are the small axe
Sharpened to cut you down
Ready to cut you down 
The brand new "Small Axe (Jamaica Soundsystem Remix)" release is complimented by an official video that includes exclusive footage of U-Roy and Jesse Royal in the vocal booth during the SOLID GOLD U-ROY recording sessions. Directed by Daryl Higgins, and Executive Produced by Gabriel Jagger for whynow, alongside Trojan Jamaica co-chiefs Zak Starkey and Sharna "Sshh" Liguz, the new visuals also feature cutaways to scenes from the iconic 1978 Jamaican film Rockers (courtesy of Blue Sun Film Co) — another tale of David defeating Goliath. Fans of the vintage film will recognize cameos from some of their favorite reggae stars like Big Youth, Gregory Isaacs, Kiddus I, Ras Michael and The Sons of Negus, bassist Robbie Shakespeare, drummer Leroy "Horsemouth" Wallace, percussionist Bongo Herman, engineer Sylvan Morris, guitarist Earl "Chinna" Smith, and horn players Bobby Ellis, Cedric "Im" Brooks, David Madden, Tommy McCook, and Richard "Dirty Harry" Hall. 
"I absolutely loved working with Zak and Sshh to create the video," offered Jagger. He went on, "it is such a privilege to work on this amazing track from U-Roy and Jesse Royal that breathes new life into Bob Marley's iconic song." 
Zak and Sshh added "Rockers is one of our favorite movies, and we are blessed to have worked with Kiddus I, Big Youth, Horsemouth, Bongo Herman, Robbie Shakespeare and other musical giants featured in the film, and we recently mixed a Gregory Isaacs tune. All of these guys represent the 'Small Axe' that is going to chop down 'the big tree'" 
Starkey and Liguz, whose fledgling Trojan Jamaica record label launched only a few short years ago, but has already taken home the 2021 Grammy Award for Best Reggae Album with Toots and The Maytals' Got To Be Tough, explained the significance of the remix and video: 
"It was and always will be an honor and a pleasure to work on U-Roy's recordings. We miss him dearly, but our mission is to keep his legacy strong with the music that lives on. Jesse Royal gives a stand-out performance on "Small Axe" with passion and talent. Maximum Respect!" 
SOLID GOLD U-ROY is available digitally now via Trojan Jamaica/BMG as well as on limited edition 2-LP Gold Vinyl via VP Reggae HERE. The album – which also features appearances from such musical luminaries as Ziggy Marley, Shaggy, Mick Jones of The Clash, Santigold, Sly & Robbie, David Hinds of Steel Pulse, Big Youth, Tarrus Riley, Rygin King, Richie Spice, and Scientist – has proven one of this year's most celebrated releases. 
Produced by Starkey and Liguz, with Martin "Youth" Glover (of Killing Joke), and mixed by David Sardy (Toots & The Maytals, Oasis, The Who), SOLID GOLD U-ROY also boasts a stellar band of superstar personnel comprised of Zak Starkey on guitar, as well as reggae royalty, including Sly Dunbar on drums, Robbie Shakespeare on bass and backing vocals, Tony Chin on guitar and backing vocals, Robbie Lyn on organ, Stingwray on trumpet, and the maestro Dean Fraser on saxophone and backing vocals. 
Originally scheduled for release in 2020, the album now serves as a musical memorial to the one and only U-Roy, who sadly passed away on February 17 of this year. One of the most profoundly influential reggae stars of his generation, U-Roy left behind an unmatched legacy as an originator of the chatty rhythmic vocal style known as toasting – a key foundational element in the development of rap and hip hop in the 1970s. Ahmir "Questlove" Thompson, drummer and joint frontman of The Roots, paid tribute to U-Roy as "the god of toasting," adding that "w/o him we wouldn't have the concept of hip-hop." 
PRAISE FOR SOLID GOLD U-ROY: 
"SOLID GOLD U-ROY – his final album – plays like his definitive songbook of the genre's classics… U-Roy – in his late 70s at the time of recording – is at the top of his game, always toasting the track but never letting the song get in the way of his impressionistic approach to lyricism… a lovely reminder of the giant we lost and a righteous reminder that his legacy should be handled with care." – THE GUARDIAN
 "U-Roy remains on form throughout, delivering everything in his relaxed yet confident style, all testament to his enduring talent." – MOJO 
"A genuine triumph and about as good a capper to an influential career as you could hope for…SOLID GOLD U-ROY doesn't try to reinvent U-Roy for 2021 (or 2019), opting instead for a timeless sound that could've come blasting out of a sound system in 1975… The album really leaves you wishing you could see U-Roy strut that stuff on stage now, but glad you have this terrific final document of his greatness." – BROOKLYN VEGAN
 "What was meant to be a victory lap for one of the most notable vocalists in Jamaican history turned into a posthumous offering because of his passing this past February. SOLID GOLD U-ROY gives a glimpse of the joyous feel of his music and serves as a reminder that his legacy should be handled with care." – MXDWN
 "As a grand send-off, SOLID GOLD U-ROY is about as majestic as one could hope for. U-Roy and a cast of royalty from across several genres breathe new life into familiar reggae classics and a few reworkings of some of his earliest songs, all marked by vivid production and a general sense of celebration and joy… A fittingly triumphant final act from an artist who dedicated his life to the advancement of art. It's at once traditional and futuristic, returning to some of U-Roy's past victories and somehow rendering them even brighter and more invigorating." – ALLMUSIC
Follow Trojan Jamaica: